Three Ways To Use Concrete Allegro Blocks
If you're looking to create a retaining wall, storage area or partition wall that's quick and easy to install, then our interlocking concrete blocks are a great option.
The Allegro® blocks are designed to interlock neatly together, providing a solid structure with a clean finish. The simple block design makes them ideal for use in a variety of spaces and is perfect for creating structures on both public and private sites.
We have a great range of interlocking concrete blocks for sale so you should have no problem finding the right size for your project.
There are loads of project which interlocking concrete blocks can be used for – here's our top 3.
1. Covered Storage Bays
Precast concrete blocks are great for creating storage bays as they're made using freeze-thaw resistant concrete, so are fine to use in the harshest of British winters and will make sure your stored materials are kept safe from the elements.
The image above shows an example of a storage space we built with Toro Shelters with one of their fabric roofs mounted directly onto the blocks. They used the 1600mm x 800mm Allegro blocks for this building.
2. Partition/Dividing Walls
The concrete blocks are designed to sit on top of each other and lock together without any additional fixings. They also don't need fixing down so they can be moved and repositioned easily – perfect for temporary walls. The walls above were built using the 1600mm x 800mm concrete Allegro blocks.
3. Retaining Walls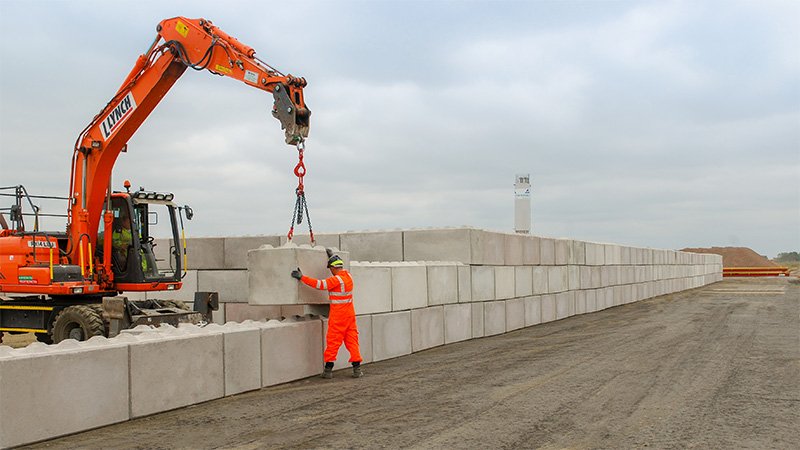 The speed of installation is the main attraction for using concrete blocks for building retaining walls. There's also no reinforcement inside the blocks so you'll get a strong, durable and long-lasting retaining wall.
Concrete Allegro Block Dimensions
We have a great range of interlocking concrete blocks, which come in three sizes. 
In addition to the full blocks, we also have smaller sizes and specialist blocks which help to create retaining walls and storage bays of all shapes and sizes. 
Delivery and Installation
We can delivery the blocks nationwide and we can also off-load and install the blocks if you don't have the time and equipment. Standard delivery is on an articulated flatbed and off-load can be done with a Moffett or HIAB crane. If you'd like any more information or help with a project give us a call on 01158 220 282.